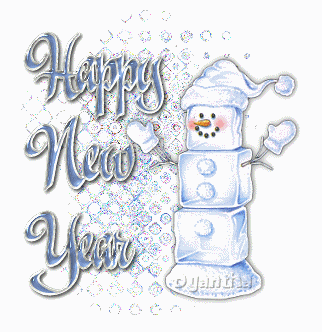 Happy New Year Glitter Pictures

Happy New Year to all our wonderful friends! I hope 2010 brings you much joy and happiness!

I've been giving a lot of thinking to what my New Year's resolutions will be. It really is tough to come up with appropriate goals that aren't too light or too heavy to try to obtain. Of course, the way things have been going with my writing lately, I'm not sure they could be too light, but I want to set good goals.

2009 was a bad year for me as far as my writing goes. I don't feel like I really accomplished anything. I want that to change in 2010. So, for now, here are my goals for this year…

• I want to write at least one full length novel
• I want to sub at least twice
• I would like to participate in the mentor program from Romance Divas
• I would like to write and submit a YA novel
• I would like to have more time to devote to my writing
• I would like to move to another area of the country, at least for a while

I guess, this is my list for now. Hopefully, I'll be able to stick with it.

I've been trying to focus on certain areas of my writing that need improvement lately, one area at a time. Right now, I'm working on characterization. I've really been enjoying digging into this one aspect so far. In the past, I've come up with characters that I've really liked, but I'm trying to take it a step farther. I'm trying to make them unique, more unique than I have. It's been fun examining all the different possibilities out there.

There are many different things I have plans to work on, but I think it's best for me to just try to overcome one obstacle at a time. I can do my best to master that aspect before I move on to another. I hope this will help me to improve without overwhelming myself. At least, that's the plan for now.

So, tell me, what are your plans for the new year? Have you made a list of goals or resolutions?