Announcing the great new release from Kissa Starling, Carl's Story. Available from Red Rose Publishing on July 23, 2009.

A poor body image and public play at the Dungeon don't mix so what's a submissive to do?

Sylvie and Carl used to be prominent play partners at the dungeon. Fast forward to three kids later and Sylvie is ashamed of her once perfect body. Carl understands that restoring her self confidence is his responsibility but he's not sure how to do it. When her body issues affect their marriage he knows that it's time for drastic action. An upcoming birthday provides him not only with the perfect time but the perfect solution to their problems as well...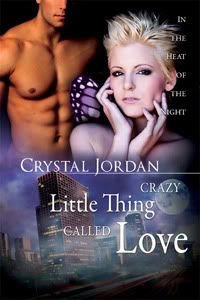 Crazy Little Thing Called Love by Crystal Jordan

Love can drive you over the edge. It can also let you fly.

An In The Heat of the Night story.

Pixie Parthon worked hard to make her music production company a success. Anyone who gets in her way gets the business end of her Fae magic. Her savvy business sense kept her family afloat for years, but now that her musician brother is mated and off on a world tour she's feeling left in the dust.

Maybe it was a faint wish for a little love magic for herself, but she didn't expect one night of cutting loose to leave her marked for life. A little love bite is one thing. Give up her hard-won independence to a pushy alpha werewolf? She'll pass.

Malcon is just as shocked as Pixie, but for a different reason. From the moment he saw her, his desire went far beyond getting into her pants. When she agreed—begged—to be bitten, he believed she also sensed their destiny to be mates.

Now it's too late. Nothing will convince Pixie that he has no intention of clipping her wings—not even a month's worth of orgasms on call. Crazy as it sounds, love is all he wants from her. Even if it means letting her go…

Buy it here!